Wyoming Army National Guard protects archaeological sites on Camp Guernsey
By: Ken Humphrey

Camp Guernsey is the Wyoming Army National Guard's primary field training center. The military reservation encompasses almost 80,000 acres in Platte County. Camp Guernsey's primary purpose is to train Wyoming Guard units, but the facility also hosts soldiers from every branch of the military from all over the United States and even soldiers from other countries. Camp Guernsey has hosted over 4,000 troops at one time and can expect to train several thousand soldiers over the course of the training season. Under the National Historic Preservation Act, Guard personnel review training activities to determine what effect it will have on important cultural resources, including archaeological sites.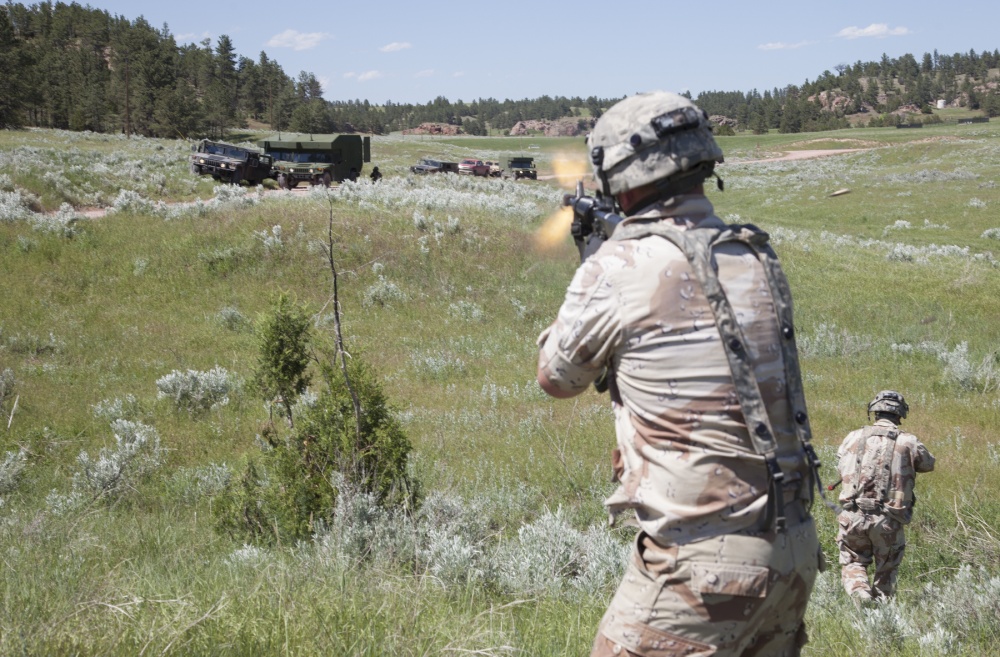 Archaeologists have recorded over 1,300 archaeological sites on Camp Guernsey since the first surveys in the early 1990s. Several types of sites can be found on the 80,000 acre military training facility. Prehistoric Native American sites may feature stone circles, rock art, stone alignments, tool stone quarries, stone tool manufacturing areas, roasting pits, or rock shelters. Historic sites are the remains of homesteads, ranches, and sites along over 12 miles of the Oregon, California, Mormon Pioneer, and Pony Express National Historic Trails. Archaeologists continue to identify archaeological sites and recorded several more this summer (2016).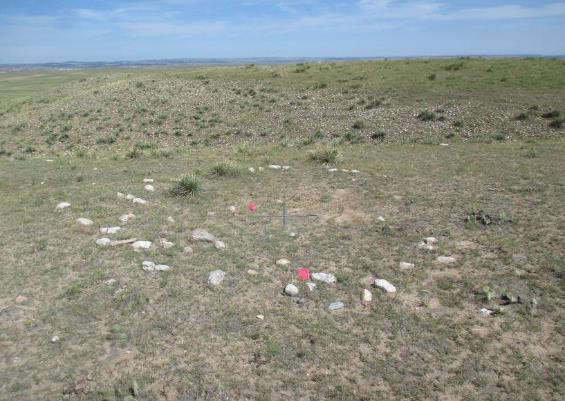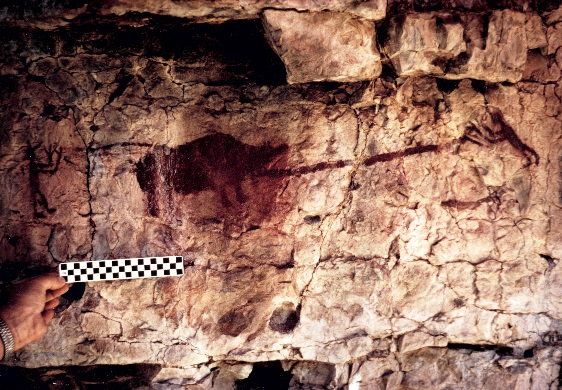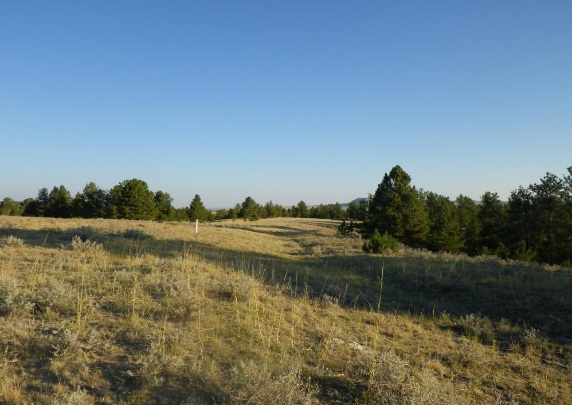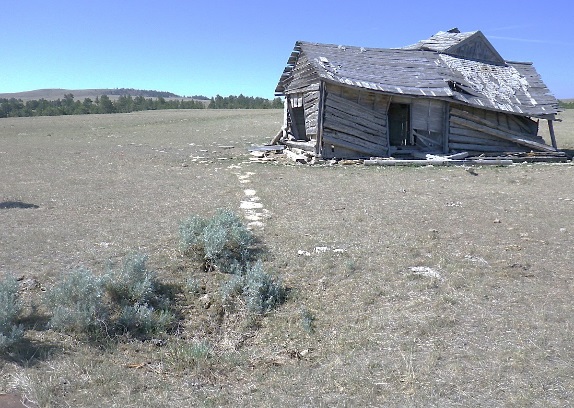 Top left: Stone circles recorded on Camp Guernsey (University of Wyoming 2013); Top right: Painted rock art panel on Camp Guernsey (George Zeimens 1991); Bottom left: Child's Route segment of the California Trail (HDR Inc. 2012); Bottom right: Farm house on Camp Guernsey (University of Wyoming 2014)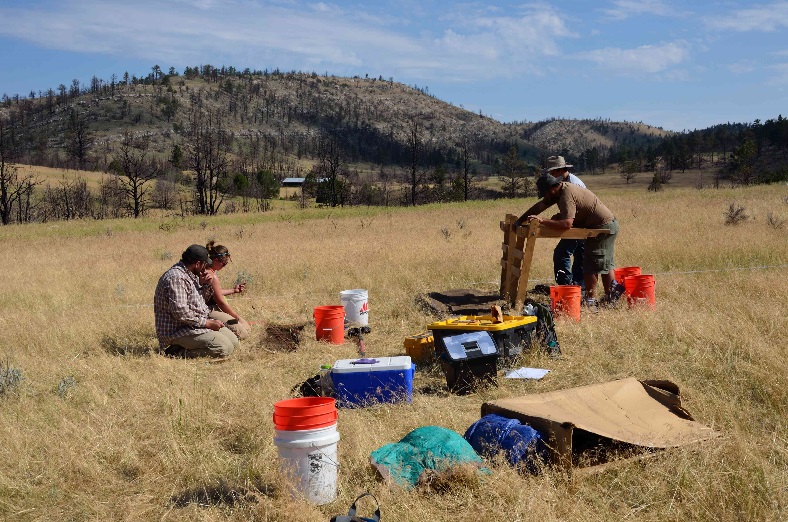 Test excavation on a prehistoric site on Camp Guernsey (USU Archaeological Services 2013)
In addition to recording sites, archaeologists have the opportunity to conduct interesting research on what they find. Past projects have produced radiocarbon and optically stimulated luminescence (OSL) dates, tested protein residues on stone tools, vetted the productivity of remote sensing technologies like ground penetrating radar and magnetometer, and analyzed hundreds of artifacts. It is Wyoming Army National Guard's goal to be a productive partner with the archaeological community by contributing to knowledge of history and prehistory and preserve this important resource.
The Wyoming Army National Guard continues to develop programs to preserve archaeological sites on Camp Guernsey using three primary methods: planning, education, and boundary markers. Prior to military training, units are provided with maps of the training ranges with locations restricted to training. Wyoming Guard personnel work directly with units to design maneuvers to have minimal interaction with significant archaeological sites in addition to other sensitive natural and cultural resources. Once the unit arrives, Camp Guernsey personnel provide environmental awareness training to educate soldiers to be responsible stewards of the natural and cultural resources, including archaeological sites.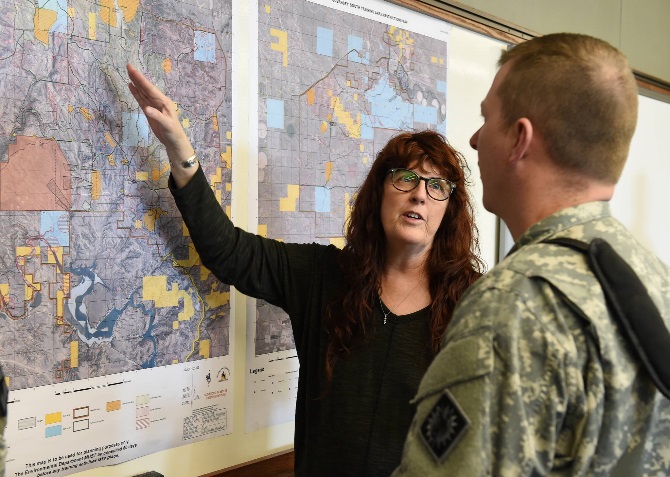 Pamela McClure, Camp Guernsey Environmental Specialist, works with units to avoid impacts sensitive cultural and natural resources (1SG Jimmy McGuire 2016)

One aspect of training is helping soldiers identify sensitive locations in the field. Over the last two year (2015 and 2016), Camp Guernsey personnel have deployed a special marker used by Department of Defense military bases to designate areas restricted to training, known as Seibert Stakes. Seibert Stakes are special reflectors that increase marker visibility from moving vehicles and is even visible to night vision. In combination with on-demand assistance from Camp Guernsey environmental specialists during training events, the new markers have greatly increased the protection of archaeological sites. To date, the Wyoming Guard has placed over 600 stakes.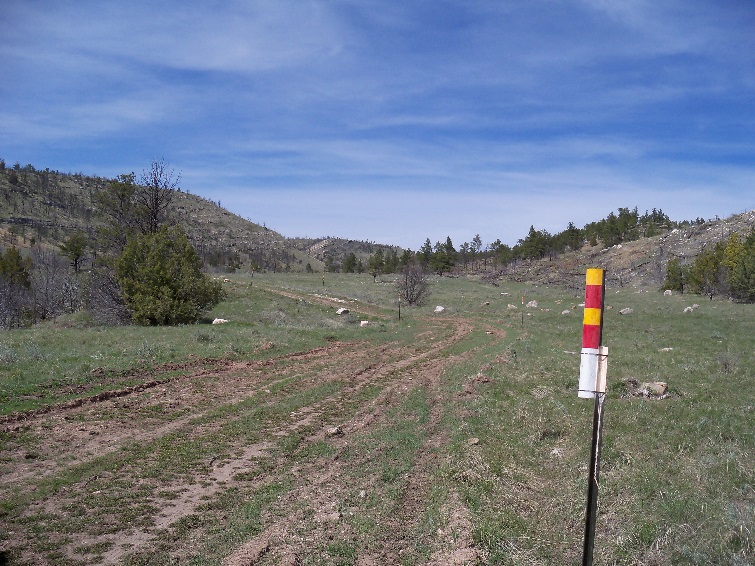 Siebert stakes placed along an access route on Camp Guernsey signaling troops to stay on the road and out of an archaeological site (Tracy Hall 2016)