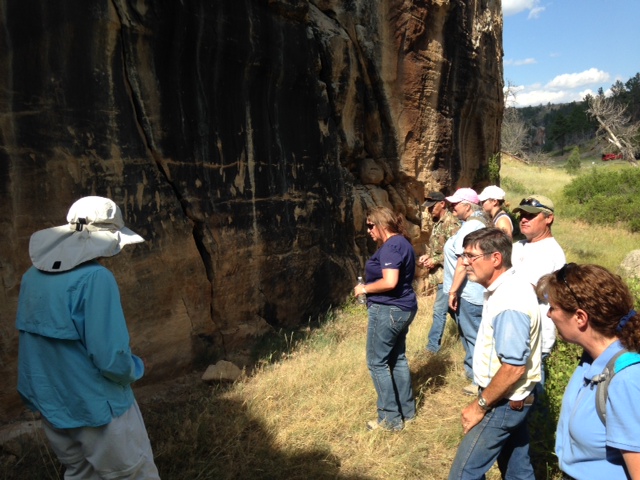 (Newcastle, WY Training 2014)
Click image to enlarge!
The Wyoming Site Stewardship Program (WYSSP) is comprised of concerned people committed to protecting and preserving Wyoming's rich cultural heritage.  Professional heritage/cultural resource specialists and trained volunteers work together to monitor cultural resources throughout the State, adding to the existing documentary record, sustaining a regular presence to deter looting and vandalism, and reporting these activities when they occur.
The primary purposes of the Wyoming Site Stewardship Program are:
To protect and preserve prehistoric and historic cultural resources for the purposes of conservation, scientific study, interpretation, and public enjoyment.
To increase public awareness of the significance and value of cultural resources.
To discourage/deter site vandalism and looting.
To assist with permanent management of monitored sites.
To promote understanding and cooperation between the Wyoming State Historic Preservation Office, the Bureau of Land Management, and the interested public.
The primary objective of the stewardship program is to periodically monitor selected cultural resources to maintain a record of resource condition.  Information collected by stewards will include evidence of new vandalism or looting, and evidence that the resource may be deteriorating from natural conditions or inadvertently from human activity at and near the site.  Information on vandalism and looting, reported promptly, can greatly increase the effectiveness of investigation.  Information on other conditions that may be affecting a site is used to improve general site management. 
Sponsors
The Wyoming Site Stewardship Program is sponsored jointly by the Wyoming State Historic Preservation Office (SHPO) and the United States Department of Interior, Bureau of Land Management (BLM) in Wyoming.  These two agencies exercise oversight of the program.  Other agencies, organizations and individuals are invited to become official supporters of the program.  To learn more about becoming a sponsor or supporter contact the Joseph Daniele, Wyoming State Historic Preservation Office (307-777-8793).