Center of the West hosts second annual
International Archaeology Day Museum Adventure
By: Bonnie L. Smith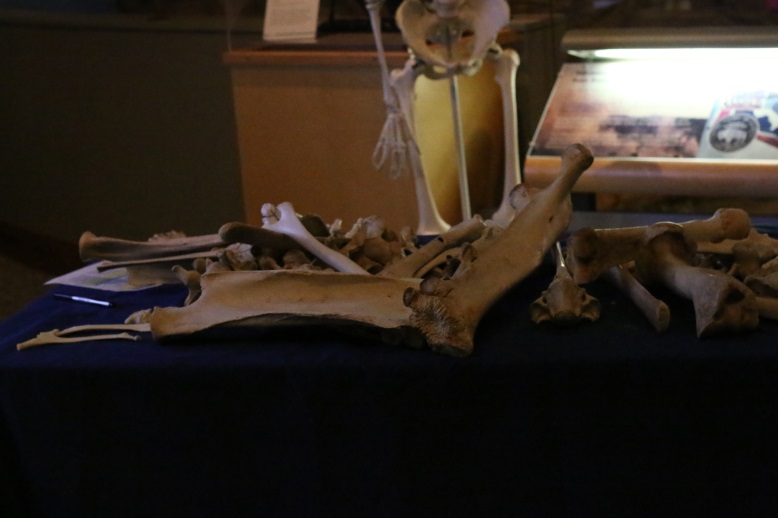 October 13th and 14th 2015, the Draper Natural History Museum and the interpretive education department located at the Buffalo Bill Center of the West in partnership with, the Shoshone Forest Service, the Absaroka Chapter of the Wyoming Archaeological Society, and Park County Historic Preservation Commission, held the second annual International Archaeology Day Museum Adventure. The Museum Adventures are school programs for 3rd -5th grade regional students, however a request was made by local teachers to provide a 2nd grade component, so we did. October 13th was devoted to 3rd – 5th graders with the 14th reserved for 2nd grade students. We filled all 10 available slots for the 13th and 3 out of 4 spaces on the 14th.
Each participating partner had a specialty station for the different aspects of archaeology. The underlying theme was one of stewardship.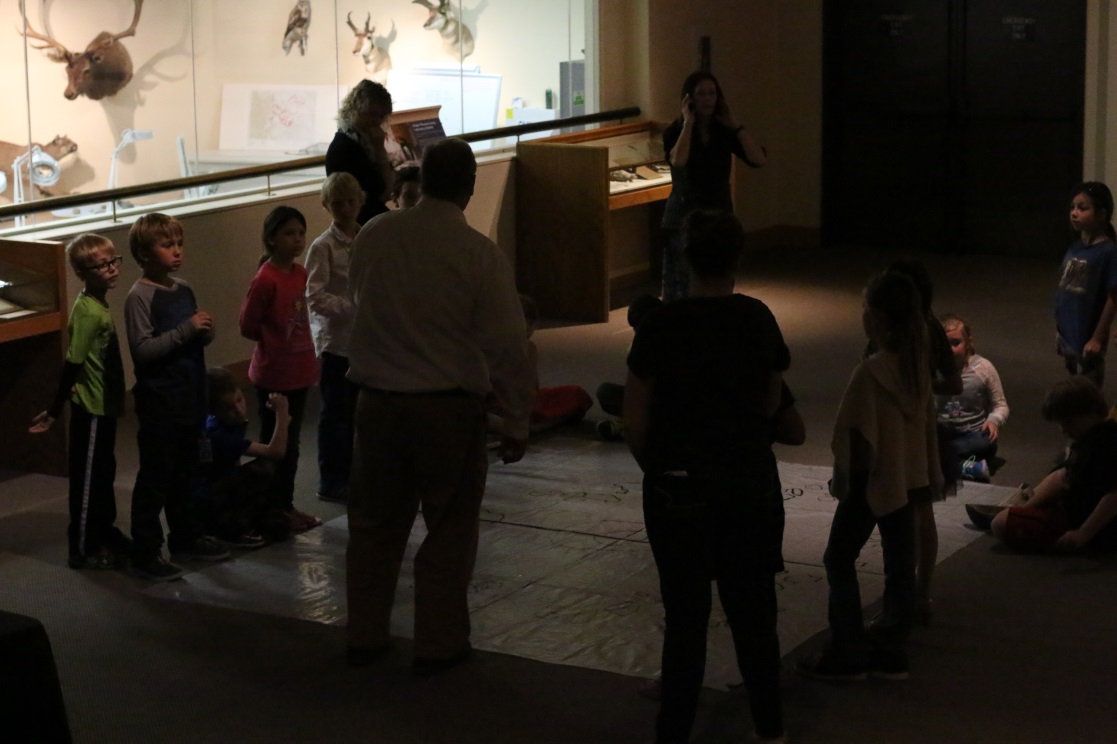 The Center of the West interpretive education department's George Miller had a site mapping station to encourage critical thinking skills.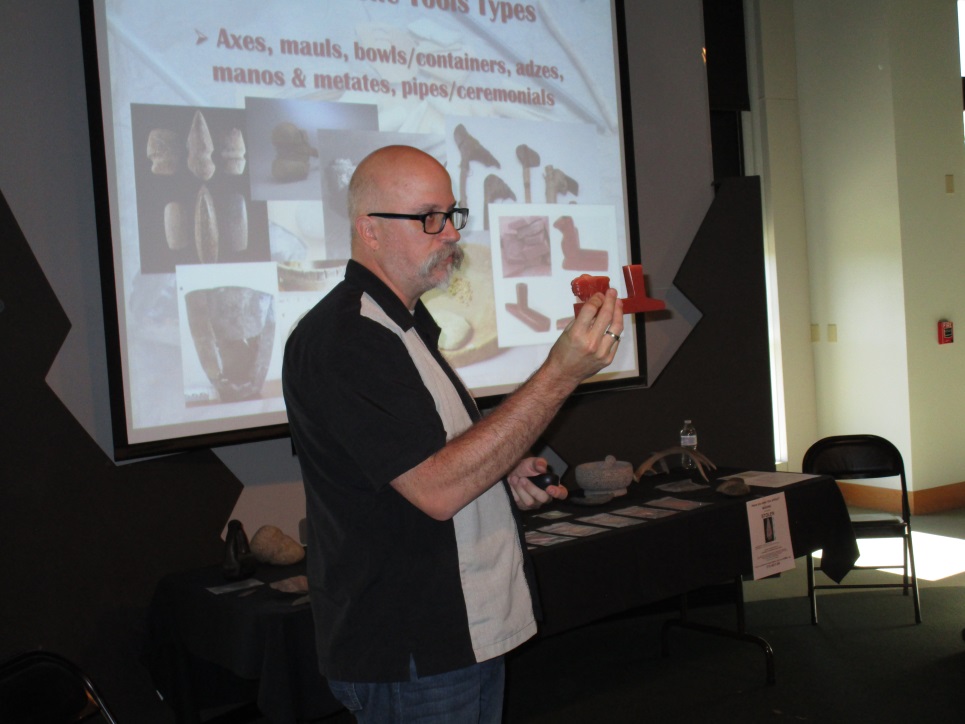 The Shoshone Forest Service archaeologist, Kyle Wright, demonstrated flint knapping and the first toolbox of Wyoming's earliest residents. Kyle did not cut himself once!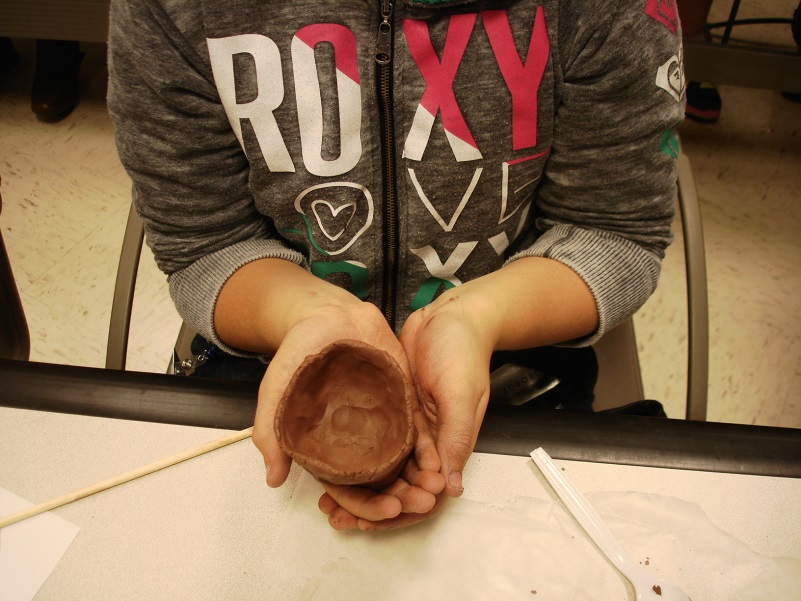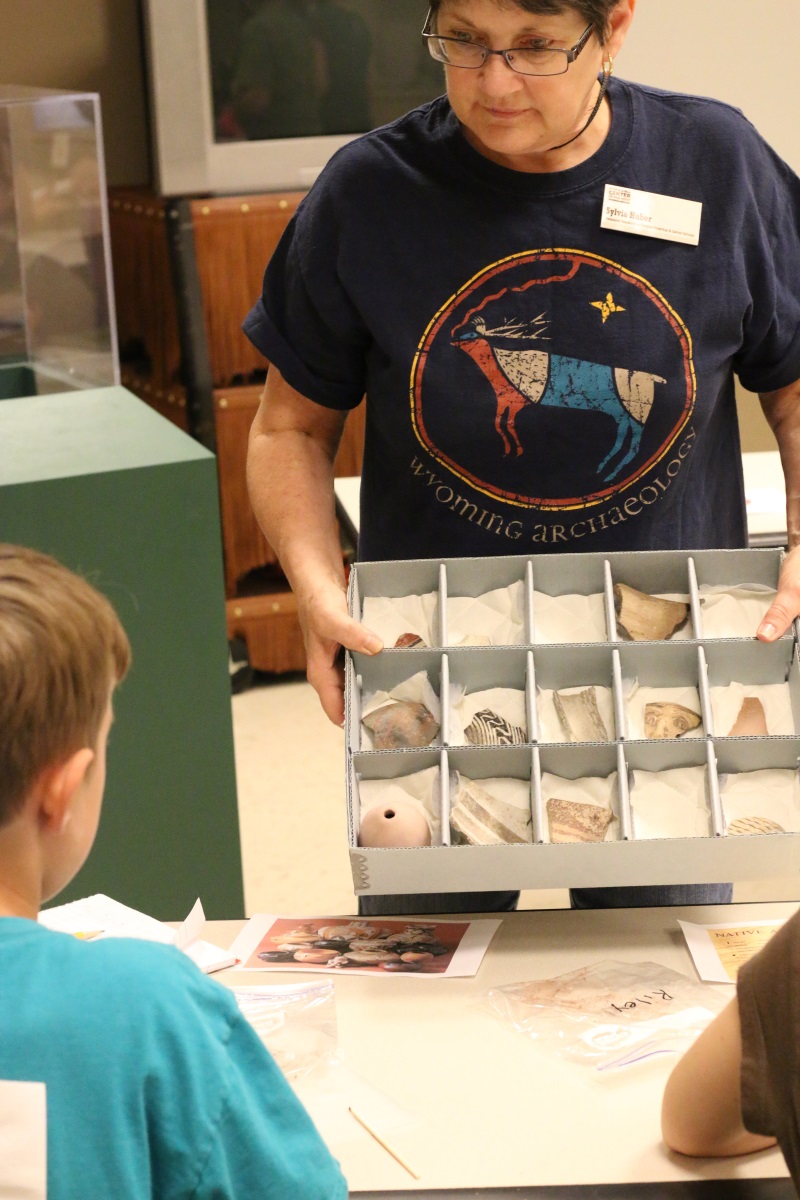 Sylvia Huber and Janet Marie Haddox, from the Absaroka Chapter of the Wyoming Archaeology Society, held their second ceramics clinic in which the students were allowed to examine pottery shards and then create a pinch pot of their own to take home. Kathleen Broeder from the McCracken research library was able to help with the 2nd grade students on the 14th.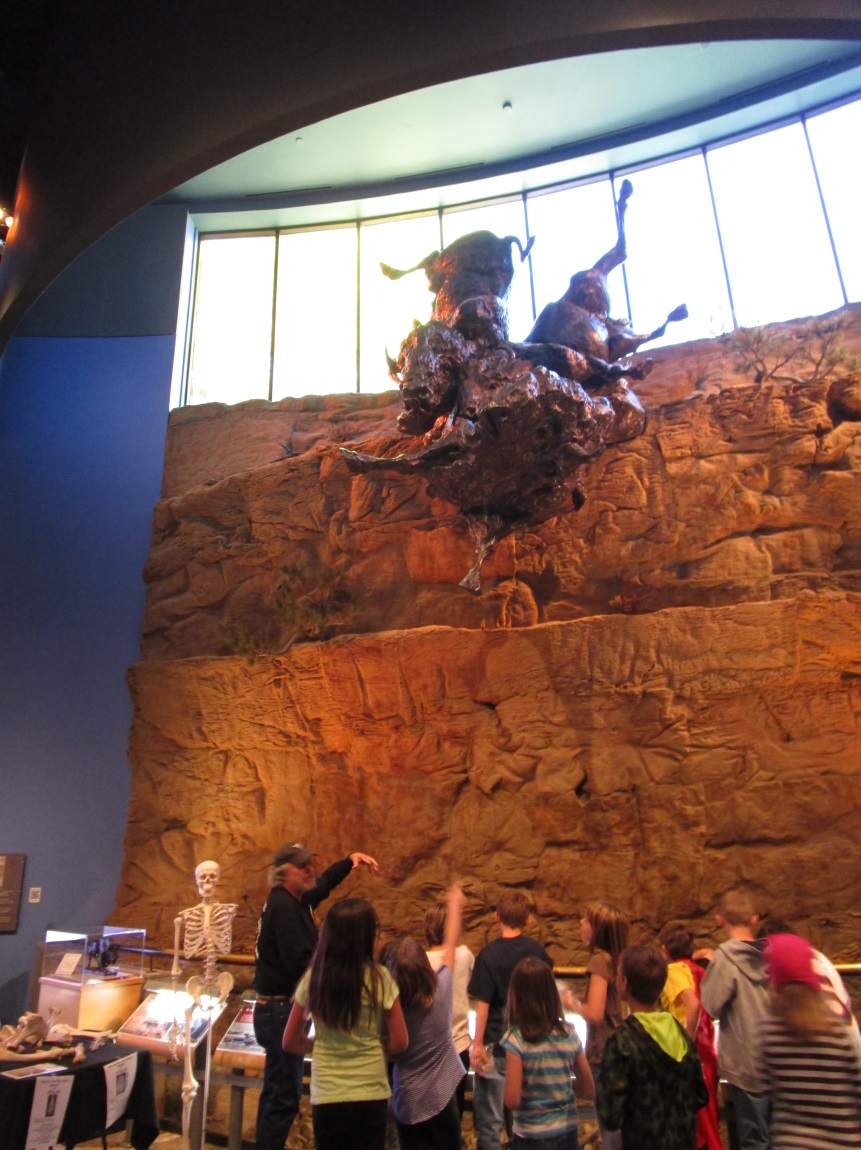 Dr. Lawrence C. Todd encouraged the students to find their inner bison through a bone biology lab. Using both bison bones and an articulated model of a human skeleton, he showed the students how to locate specific bones on humans and bison.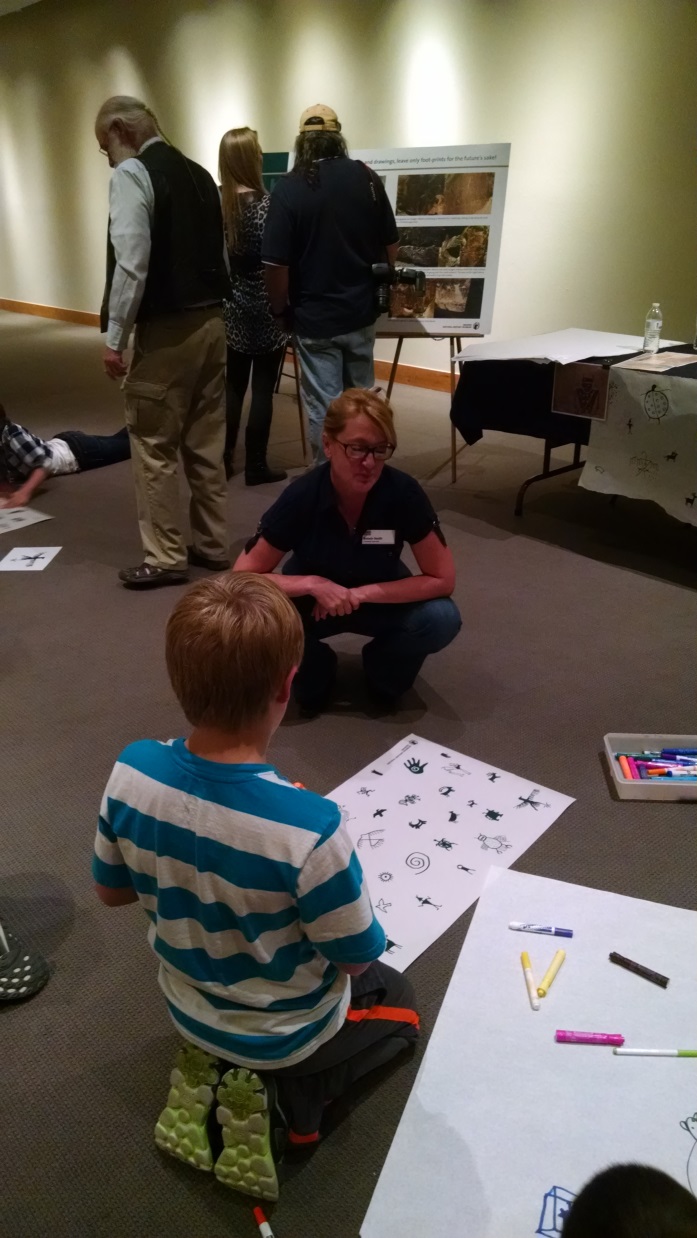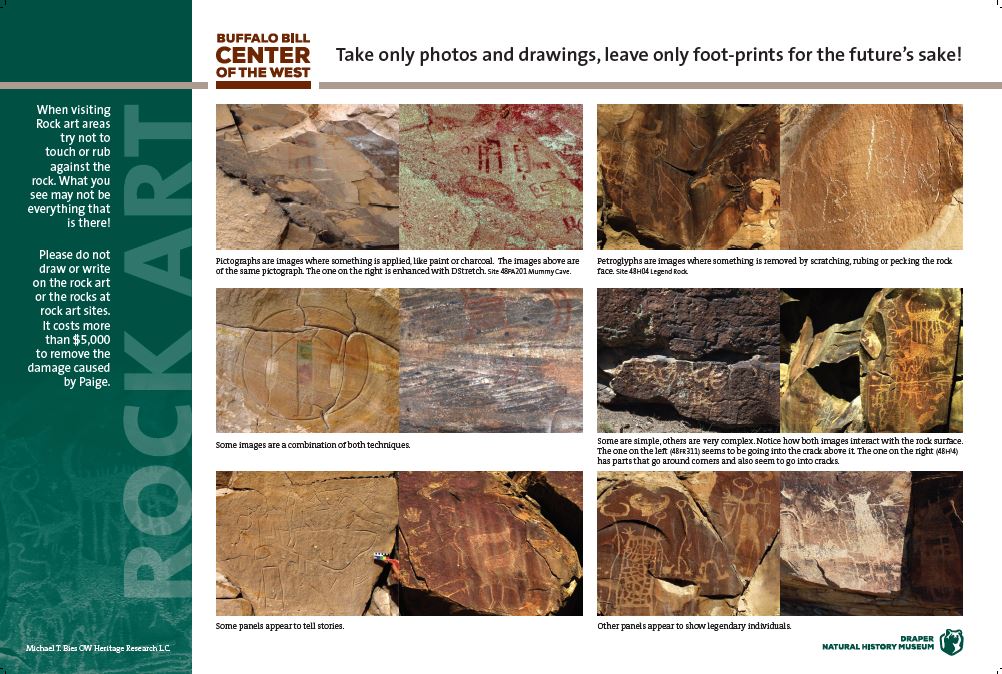 The final station was operated by Bonnie L. Smith, curatorial assistant for the Draper Natural History Museum. Her station focused on rock art of the region, protection, and conservation. She explained the importance of protecting rock art. The students worked on their own community rock art projects with the use of butcher paper and a marker, emphasizing that paper is the only place you should ever draw.
Through this opportunity we have successfully brought together several agencies and provided a critically needed education on stewardship to our local community children. It was registered with the Archaeological Institute of America in Boston, Massachusetts and continues to be one of the only events in the state of Wyoming. Several of our partners were listed as collaborating members with the Archaeological Institute of America. The event was very successful having reached over 239 local children, doubling our number from 2014, who will hopefully go forward with a sense of wonder and respect for what our amazing region has to offer both archaeologically and naturally.
Again a huge thank you to all of you who gave of your time to make this event happen. See you next year.
For more information or to volunteer for next year's event you can contact Bonnie Smith at 307-578-4020 or by e-mail at This email address is being protected from spambots. You need JavaScript enabled to view it..